Hawaiian flowers are famous around the world. The perfect climate in Hawaii allows many different tropical and other flowers to thrive. But were these beautiful blooms always here or were they brought in from afar?
Orchids
Orchids are a quintessential Hawaiian flower. Orchids are found in many exotic locations around the world. They came to Hawaii with workers from Asia who came to work in sugar cane fields. Orchid hobbies soon evolved into commercial growing as the popularity of the flower expanded worldwide. Most growers are on the Big Island, known as 'The Orchid Isle'. However, most islands have climates favorable to growing orchids. Nurseries can be found on Oahu and Maui as well.
There are endemic orchids include some very rare species found only on the island of Molokai. It is believed they may have originally come to the islands via migratory birds.
There are now many large nurseries dedicated to orchids. The seed stock mostly arrives from Taiwan though some local growers create their own crosses. Competition from factory farms in Taiwan and Thailand have created a great deal of price competition for Hawaiian growers most of which are family owned.

In addition to potted orchids and cut stems the orchid blooms are used in lei making. Again cheaper blooms from Thailand have taken from the Hawaiian grown flowers. Most orchid leis are made from dendrobium orchids.
Hanohano orchids are grown in trees and are found in many Hawaiian yards
Plumeria
Plumeria are very much identified with Hawaii. They grow in sunny spots and are seen in many yards and for landscaping. Is plumeria a native Hawaiian tree? Sorry, no. Plumeria are native to the Americas. The name comes from a European botanist name Plumier who first wrote about the tree. They were brought to Hawaii from Mexico in the 1800's. The blooms are short lived and are white with yellow centers or various shades of pink. Plumeria are used for making leis though they are not so durable as orchid leis. Plumeria are prized for their fragrance. It can be extracted from the flower though this is a difficult process. Many cosmetics use simulated plumeria fragrances.
The flowers are toxic if eaten so keep them away from children and pets.
In Hawaiian the name can be said 'Pua Melia' with pua being the Hawaiian word for flower. Melia is a common name for girls in Hawaii. Plumeria is also know as frangipani. You can grow them in many places on the mainland. Water when there are leaves and stop when the leaves begin to drop.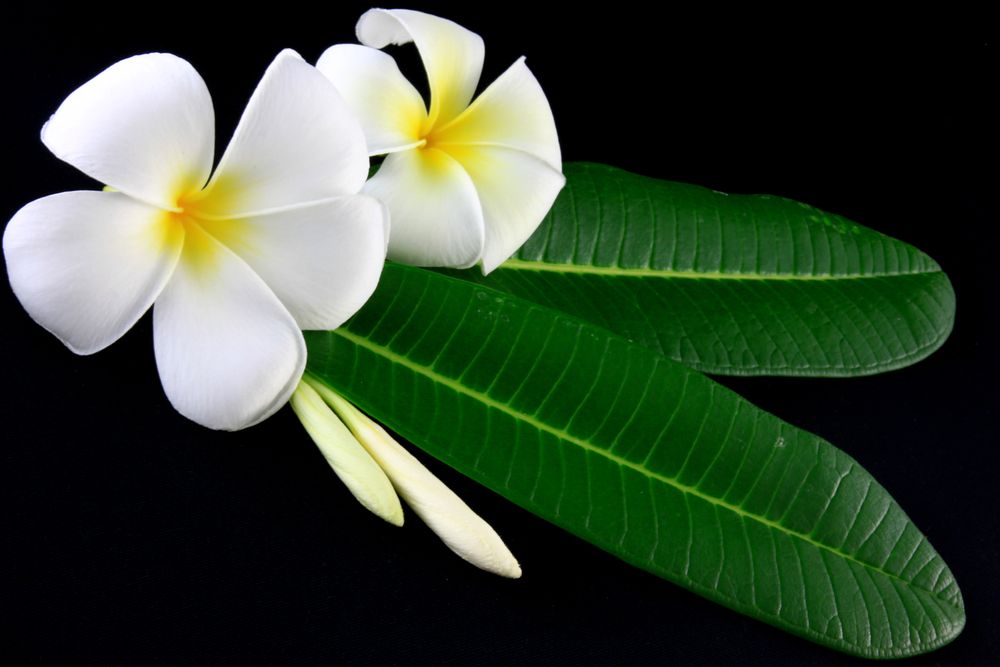 Hibiscus
Hibiscus is another favorite garden flower found in Hawaii. But it is another exotic coming from southeast Asia and Oceania. The soft flowers are somewhat short lived and are not sturdy enough for lei making. Hawaiian women will often wear a hibiscus in their hair. They can also be grown as a house plant and are grown outdoors in states like California and Florida.
Hibiscus is so popular in Hawaii it has been named the State Flower.
Anthurium
Anthurium is another Hawaiian classic. This beautiful flower was brought from Central America and it thrives in Hawaii with its similar climate. Anthurium are used for flower arranging and are know to be long lasting. Some anthurium can last up to a month after cutting. Soaking the entire stem and flower under clean water is one trick for a longer life. Anthurium like steady and warm temperature. A little cold exposure or too much heat can cause the flower to wilt.
Anthurium come in colors including red, green and pink. There are also variegated flower as well as smaller tulip types.
So while this flower is seen throughout the islands it is another exotic from the New World.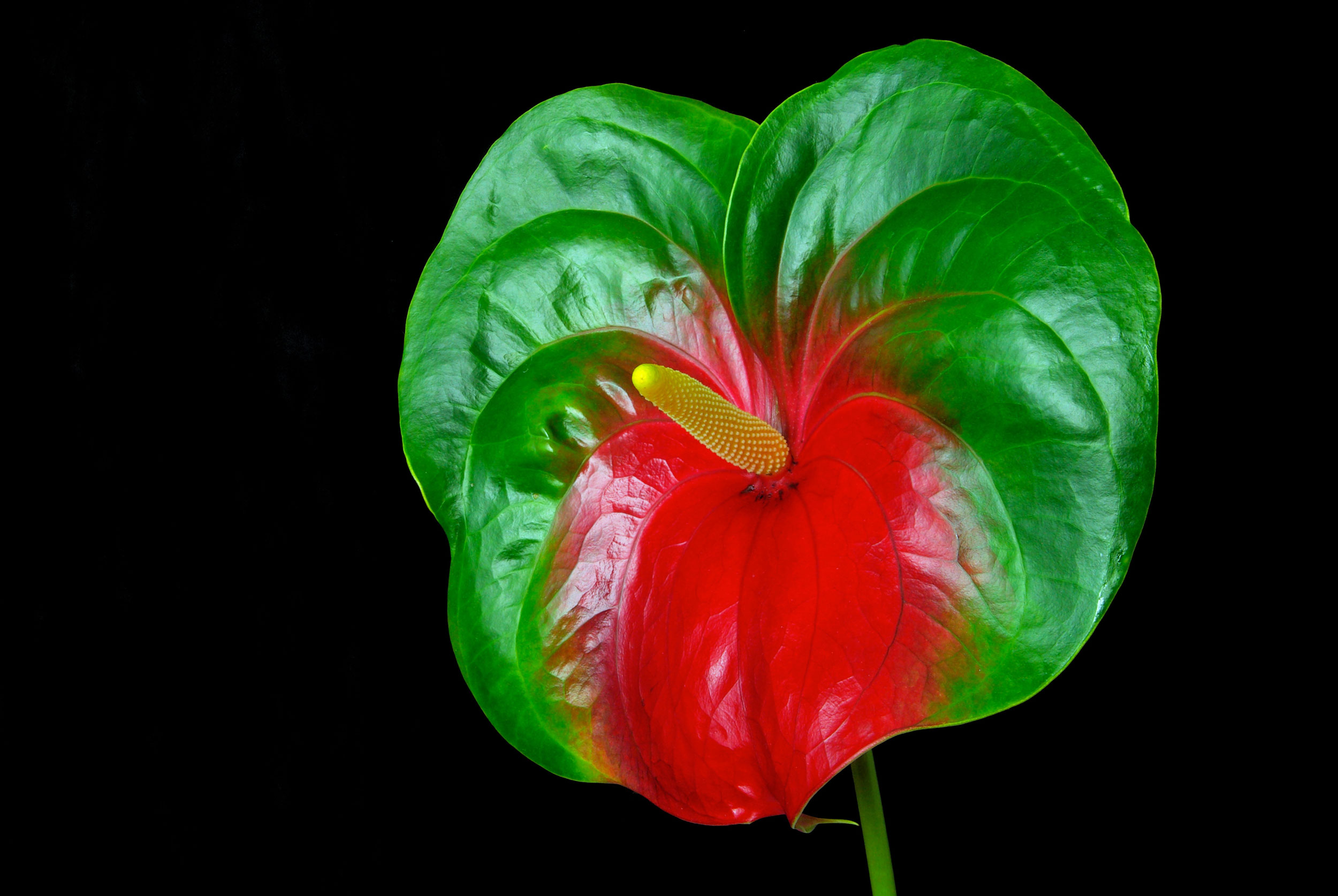 Protea
Protea are cultivated on the island of Maui. They grow well on the slopes of Haleakala. Many farms allow tourists to visit. But protea did not begin on Maui. Protea are originally from Africa and Australia. They grow on a sturdy bush and many can be kept as dried flowers. Types of protea include the large king and duchess. There is also the banksia that came from coastal Australia. Pincushion protea have delicate look. All protea have an unusual appearance in comparison to tropical flowers.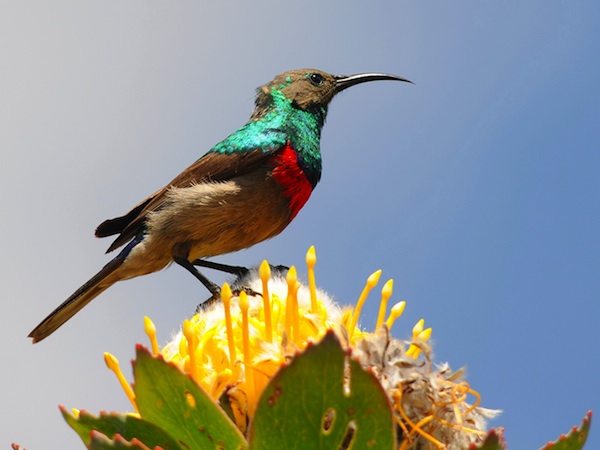 So please come to Hawaii and enjoy our amazing flowers. The fact that most came here from far away does not take away from their importance in Hawaiian life and culture.