Finding a gift for someone in assisted living can be a challenge. These are often the people who took care of us in earlier days. So it is natural to want to return that love and caring in a meaningful way. Gifts for assisted living residents can be particularly challenging at during the holiday season.
The ideal gift should be easy to receive and maintain. Our loved ones living in care giving facilities may not find it convenient to go out to enjoy a gift card for shopping or a nice meal. Or to shop on line. Residents often live in limited space both indoors and out. But a unique gift will warm their hearts in a special way. Often the days can become routine. Something unique and lovely will also bring more social interaction as other residents stop by to see what has arrived.
One of our most popular gifts for assisted living residents are fresh Hawaiian flowers.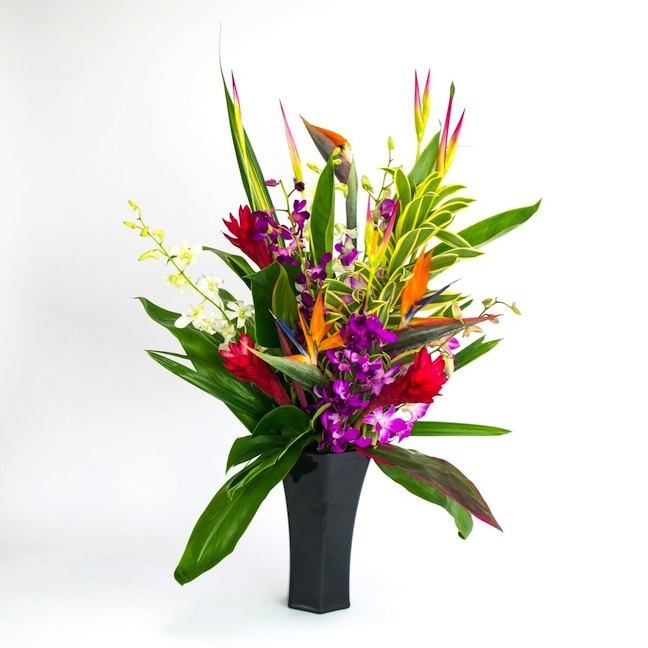 Fresh tropical flowers add beauty and color to any home. They are easy to display and make a remarkable show in even the simplest vase. Those with some time may create a spectacular arrangement of their own. And flowers from Hawaii last longer than store flowers, sometimes two weeks or more. While everyone enjoys pretty flowers your gift will be even more meaningful if your loved ones have a connection to Hawaii. They may have been born here, honeymooned in Hawaii, given military service, or simply loved to visit the islands for its people and natural beauty.
At Alii Flowers we offer a wide selection of Hawaiian flowers for your loved ones. You can send a single assortment for a holiday, anniversary or birthday. As a gift for assisted living our Flowers of the Month Clubs are widely enjoyed. This lets you give a different assortment of tropical stems each month for three, six or twelve months. New members receive a full color book to identify each flower. It also includes arranging ideas in many different, easy styles. We will send them directly to the facility. Either to the guests unit or the front desk with the guests name and location.
Looking for something already arranged? Consider a protea basket from Maui. These come in a natural container ready to display. And the unusual protea flowers grab a lot of attention. Not only does this display last for many days but most of the flowers will dry naturally and can be kept. This is a great gift for those in assisted living as it can be opened and shared immediately without arranging.
For a simpler gift a fresh flower lei can be warmly received. This can be worn on a holiday, birthday or anniversary. For attending services at holiday time a fresh corsage will add a special touch.
The holidays are time for loving and caring. Those in assisted living deserve a special remembrance. If you cannot be with them we suggest Hawaiian flowers as a way to send your own message of 'aloha'.