Finding a gift for someone in assisted living can be a challenge. These are often the people who took care of us in earlier days. So it is natural to want to return that love and caring in a meaningful way. Gifts for assisted living residents can be particularly challenging at during the holiday season.
The ideal gift should be easy to receive and maintain. Our loved ones living in care giving facilities may not find it convenient to go out to enjoy a gift card for shopping or a nice meal. Or to shop on line. Residents often live in limited space both indoors and out. But a unique gift will warm their hearts in a special way. Often the days can become routine. Something unique and lovely will also bring more social interaction as other residents stop by to see what has arrived.
One of our most popular gifts for assisted living residents are fresh Hawaiian flowers.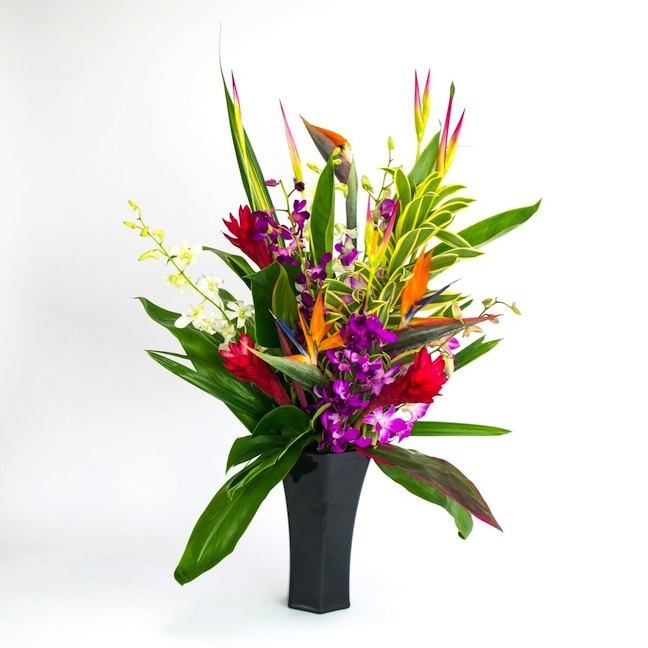 Fresh tropical flowers add beauty and color to any home. They are easy to display and make a remarkable show in even the simplest vase. Those with some time may create a spectacular arrangement of their own. And flowers from Hawaii last longer than store flowers, sometimes two weeks or more. While everyone enjoys pretty flowers your gift will be even more meaningful if your loved ones have a connection to Hawaii. They may have been born here, honeymooned in Hawaii, given military service, or simply loved to visit the islands for its people and natural beauty.
At Alii Flowers we offer a wide selection of Hawaiian flowers for your loved ones. You can send a single assortment for a holiday, anniversary or birthday. As a gift for assisted living our Flowers of the Month Clubs are widely enjoyed. This lets you give a different assortment of tropical stems each month for three, six or twelve months. New members receive a full color book to identify each flower. It also includes arranging ideas in many different, easy styles. We will send them directly to the facility. Either to the guests unit or the front desk with the guests name and location.
Looking for something already arranged? Consider a protea basket from Maui. These come in a natural container ready to display. And the unusual protea flowers grab a lot of attention. Not only does this display last for many days but most of the flowers will dry naturally and can be kept. This is a great gift for those in assisted living as it can be opened and shared immediately without arranging.
For a simpler gift a fresh flower lei can be warmly received. This can be worn on a holiday, birthday or anniversary. For attending services at holiday time a fresh corsage will add a special touch.
The holidays are time for loving and caring. Those in assisted living deserve a special remembrance. If you cannot be with them we suggest Hawaiian flowers as a way to send your own message of 'aloha'.
Kukui Nut: What's It All About?
First brought to the islands by Polynesian explorers from Southeast Asia, Aleurites moluccana, or kukui, is the state tree of Hawaii. With light green foliage covered in a silvery-white powder, these trees can grow to a height of 80 feet, and they have beautiful and fragrant white flowers. Because the trees and their products are so versatile, kukui trees held an important place in the religion and daily lives of the ancients.
In older times, only royalty were allowed kukui nut leis, and the leis were cherished. Today, they are often given to arriving guests, and many people have added the candlenut leis, bracelets and anklets to their jewelry wardrobes. The bracelets are often shared during the exchange of wedding vows to represent the joining of the two spiritual lights of the bride and groom into a single, holy union.
Kukui nuts were a source of light in ancient times, as well. Originally, the nuts were skewered on wicks made from frond leaves from coconut palms, stuck into the ground or a pot of dirt or sand, and lit one by one. As they provided light, they also helped measure the passage of time. Later, the oils were extracted and burned in lamps.
Spiritually, the kukui trees were once held to be the physical form of Kamapua'a, the pig god of the island culture. The kukui ano ano, or kukui leis, were the first prayer beds used by the Hawaiian people, and they represent light, hope and renewal.
In addition to leis, spiritual symbolism and contemporary jewelry, the kukui nuts may be roasted, pounded and mixed with salt and chili peppers to make inamona, a delicious relish-like condiment. The oils were also used often as medicines and tonics for health. Today, the oils are often used as a skin moisturizer that creates a protective layer on dry skin that allows the area to heal naturally.
The oils and ashes of the burned nuts were used to dye tapa cloth and to polish and waterproof wooden bowls, as well as canoes and surfboards made from koa wood. Crushed nuts can be used to polish kukui nut leis, too.
To learn more about kukui nuts and other Hawaiian traditions, contact us.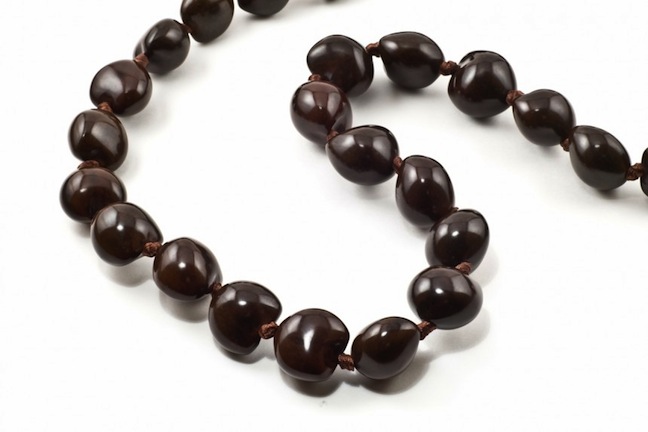 Top Hawaiian Snacks for the Foodie in Your Life
Hawaii is full of delicious treats and snacks to the casual tourist. Whether you're looking for the best snack to munch on at the beach or looking for the ideal souvenir gift for the foodie in your life, here are the top Hawaiian snacks to consider for every occasion!
Lounging at the Beach:
So you're in Hawaii and decide to go to the beach. Unless you're planning to pack an entire luau feast to take along you're going to need some snacks to munch on while taking in the sun and surf. Why not enjoy some local delicacies to really have the proper island experience? One of the best Hawaiian snacks to pack along for a long day at the beach is Li Hing Mui and dried fruit! When the Chinese people immigrated to Hawaii they brought along their knowledge of drying fruit with salt to preserve the flavor. Plums are arguably the best preserved fruits and "li hing mui" literally means "traveling plum" in Chinese! Some other delicious preserved fruits to take to the beach include dried coconut, dried pineapple, and dried papaya. Not only are the local treats delicious, but the salt will replenish the body after sweating it out at the beach and helps with muscle cramps for those activities like swimming and surfing.
Gifts to Take Home:
Everyone rues the end of a vacation. That's especially true for those enjoying the days amongst the beautiful Hawaiian beaches and mountainous terrain. What's even more trying is finding the perfect souvenir for those friends and family back home wanting a piece of Hawaii for themselves. Well fear not, because the best souvenir is one that everyone can enjoy and it's easy to pack into a suitcase. If you're having trouble deciding what Hawaiian treat to take back home and give as gifts look no further than a delicious box of chocolate macadamia nuts! A box of chocolate covered macadamia nuts are cheap and can be found in virtually any convenience or gift shop on the Hawaiian islands. Not only that, but they have a rich history with the Hawaiian people since 1927 and make the perfect easy and light gift to take back home for someone you care about.
For those who have tree nut allergies or don't like the macadamia variety another gift option is 100% Kona coffee! Hawaii is known for its locally sourced coffee beans and nothing is more Hawaiian than the Kona bean. It is cultivated only on the slopes of Hualalai and Mauna Loa on the largest island of Hawaii. There are over 600 farms on the Big Island selling coffee. It's been a recognized brand of coffee globally since the late 19th century and a perfect gift for the caffeine lover in your life.
Of course these aren't the only two options and Hawaii offers various delicious treats to snack on while the go or to add to a gift basket. Some other options include wasabi rice crackers, lemon or ginger crack seed, assortments of nuts, and flavored mochi! The tasty options are limitless!
For more information on Hawaiian culture or to bring a piece of Hawaii into your life with a personalized bouquet of Hawaiian flowers please feel free to contact us today!