Tropical Flowers From Hawaii: A Complete Buyer's Guide
When you think of Hawaii, what comes to mind first? If you're like most people, it's probably beaches, luaus, and flower leis. Hawaii is full of beautiful sights and the flora and fauna are no exception.
Whether it's the pink blossoms that make up the traditional Hawaiian lei or the yellow hibiscus flower, the tropical flowers from Hawaii are bright, cheerful, and iconic. If you want to treat yourself or a loved one to their own Hawaiian flowers, check out our buyer's guide.
Bird of Paradise
Bird of paradise are one of the most unique tropical plants out there. They are native to South Africa but can be found in Hawaii and other tropical and sub-tropical climates.
Their name comes from their appearance: they look like a tropical bird in flight. The blooms are long-lasting, the colors bold and bright, and they are a unique flower that can elevate your arrangements.
If you're an art history buff, you might recognize bird of paradise flowers from Georgia O'Keefe's painting "White Bird of Paradise", which she painted after spending time in Hawaii in the 1940s.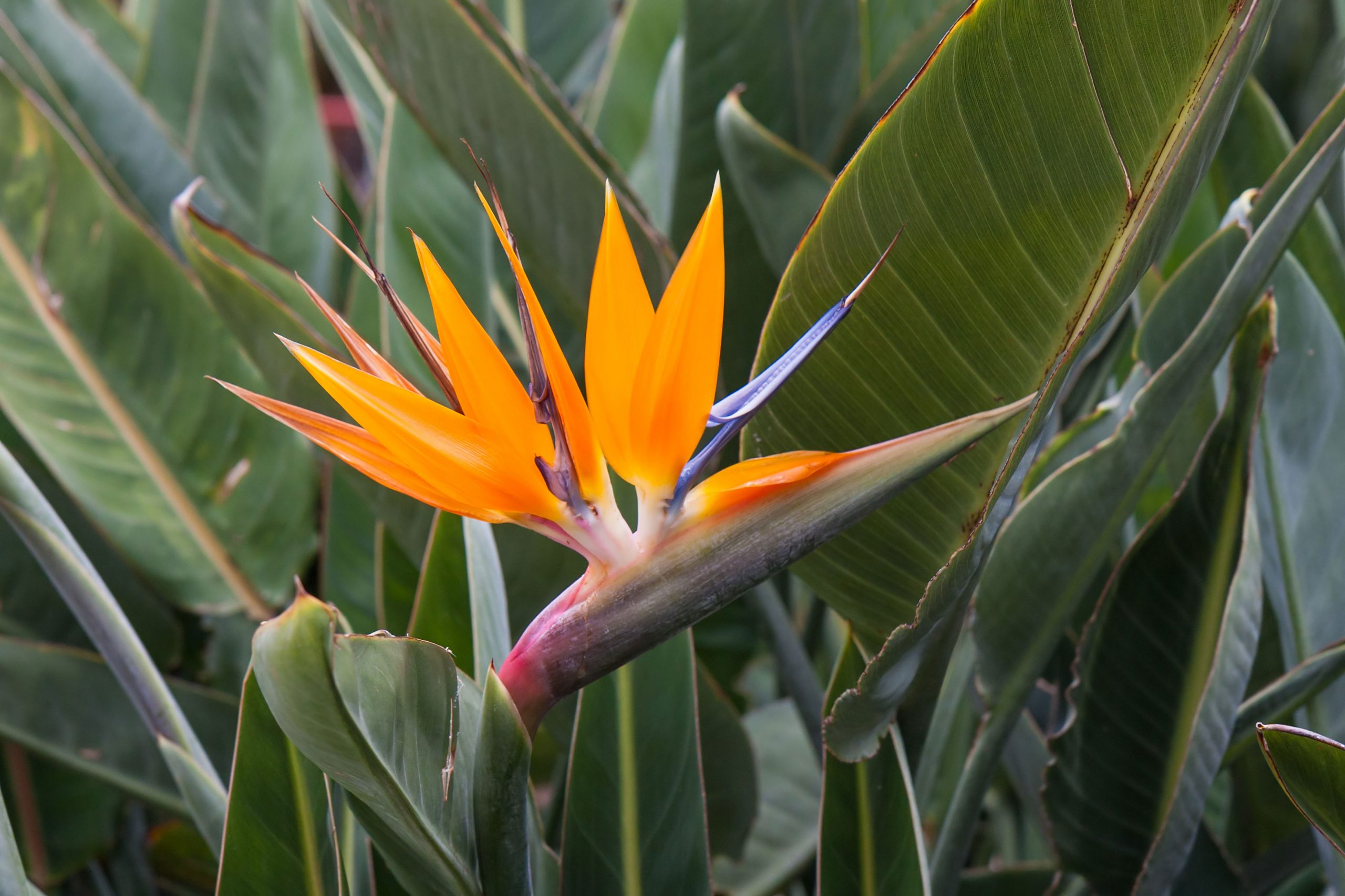 Orchid
Orchids come in every color of the rainbow (except for blue) and you've definitely seen orchids before whether you realized it or not, as they are the most common flowers used in Hawaiian leis.
The purple and white flowers are strung together into leis presented to people arriving in Hawaii, at luaus, or at weddings. Leis are a symbol of love, friendship, celebration, honor, and greeting and have become iconic and highly recognizable.
Orchids are hearty flowers that can be strung together to make a lei without losing their petals or looking damaged.
Anthurium
Anthurium isn't native to Hawaii, although it flourishes there as it is best grown in humid conditions. Nicknamed the "flamingo lily," anthurium petals appear almost wax-like. They are heart-shaped with a long tubular extension (called the spadix) that is covered in tiny flowers extending up the middle of the petals.
There are more than 1000 different types of anthurium, ranging in color from red, orange, and pink to yellow, bright green, and apricot. Some of the more unique anthurium flowers include Lady Jane anthuriums, which are pinkish-red or coral, and rainbow anthurium, which go from green to light or dark pink. They are unusual flowers and as a bonus, are also long-lasting.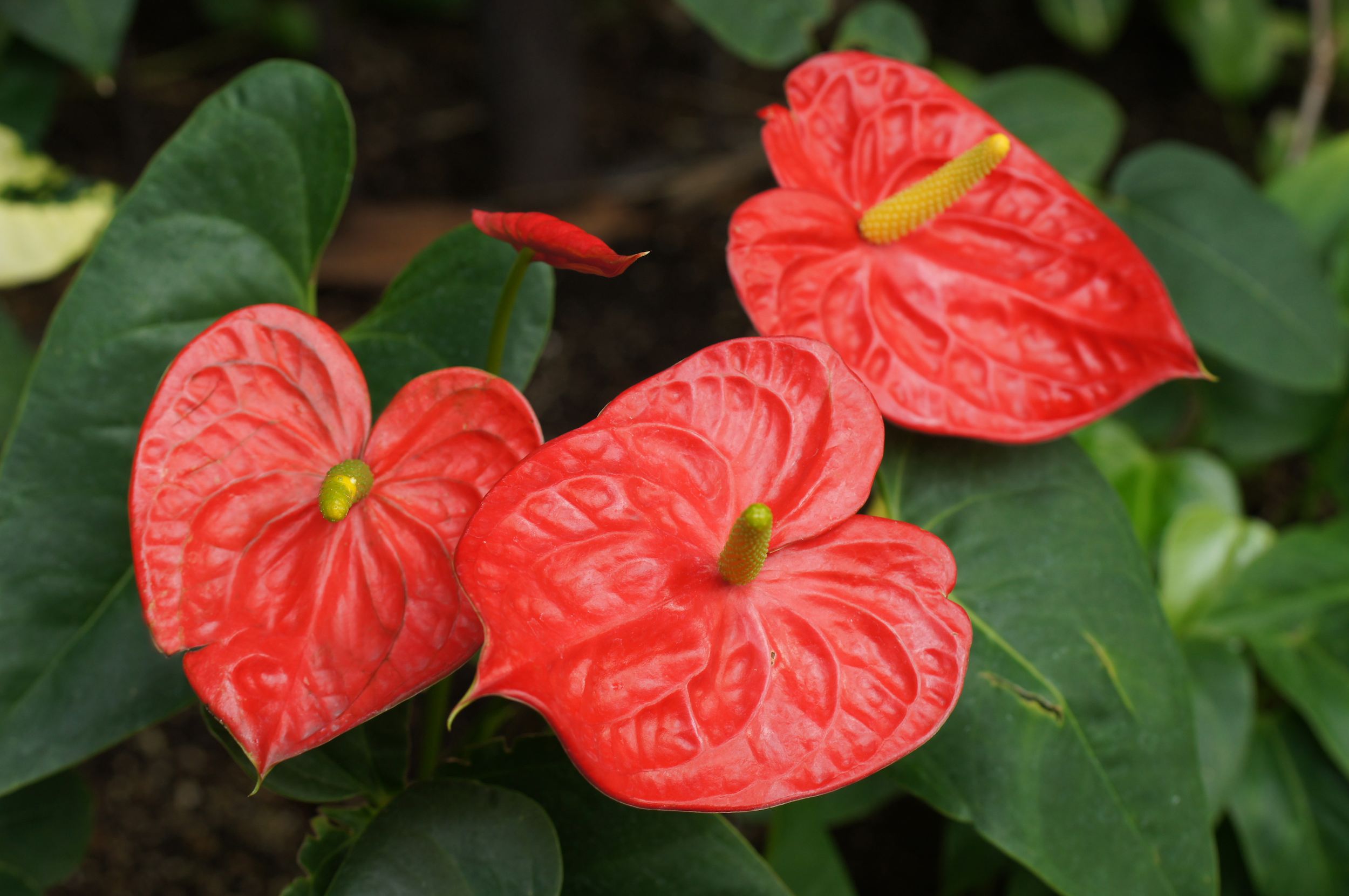 Heliconia
Heliconia can grow extremely tall and resemble red lobster claws. They are a unique flower and like the anthurium, the color is found in the bract of the heliconia plant. Because of their shape, not all birds can access the nectar because they need special beaks to do it.
There are many different types of heliconia.
Upright Heliconia
These are the most common and look most like red lobster claws. The stems are tall and thick and they are very heavy. While they are typically red, there are some upright heliconia that are pink and yellow as well.
Tropic Fleur Heliconia
These heliconias are a bit smaller than the upright heliconia and are yellow and color. They are similar to the bird of paradise and are sometimes mistaken for them, but they don't fully open as the birds do.
Ryzo Heliconia
Ryzo heliconia, or psitticorum, is very delicate and smaller than the other heliconia flowers. They are usually yellow, orange, or pink and aren't as heavy as the others.
Pendant Heliconia
The pendant heliconia is a little different than the other variations in that the bracts hang down from the stem rather than being upright. They are usually bright red with yellow edges or pink.
Exotic Ginger
Exotic ginger flowers come in a few different varieties, including beehive, shampoo, rattlesnake, and costus. The flowers are taller and are red or pink typically, and over time, tiny white flowers will emerge from the bracts.
The flowers look kind of like acorns or beehives and the shampoo ginger gets its name because it is filled with a clear, ginger-scented fluid that can be used as a shampoo.
Another type of ginger is the Hawaiian ginger, which is native to Hawaii and is one of the most common flowers you see around the islands. It is red or pink, has a long stem, and is popular for landscaping and gardens.
King Protea
King Protea flowers aren't native to Hawaii; they actually call South Africa home and are the national flower of South Africa.
Despite not being a native Hawaiian flower, the king protea grows well there as it is a tropical bloom. It's very unique and is often the centerpiece of tropical bouquets, as it is a large flower (usually between 5 and 12 inches) that resembles a crown.
The flower heads are actually made of composite flowers, with small flowers arranged in the center and surrounded by colorful bracts on the outside.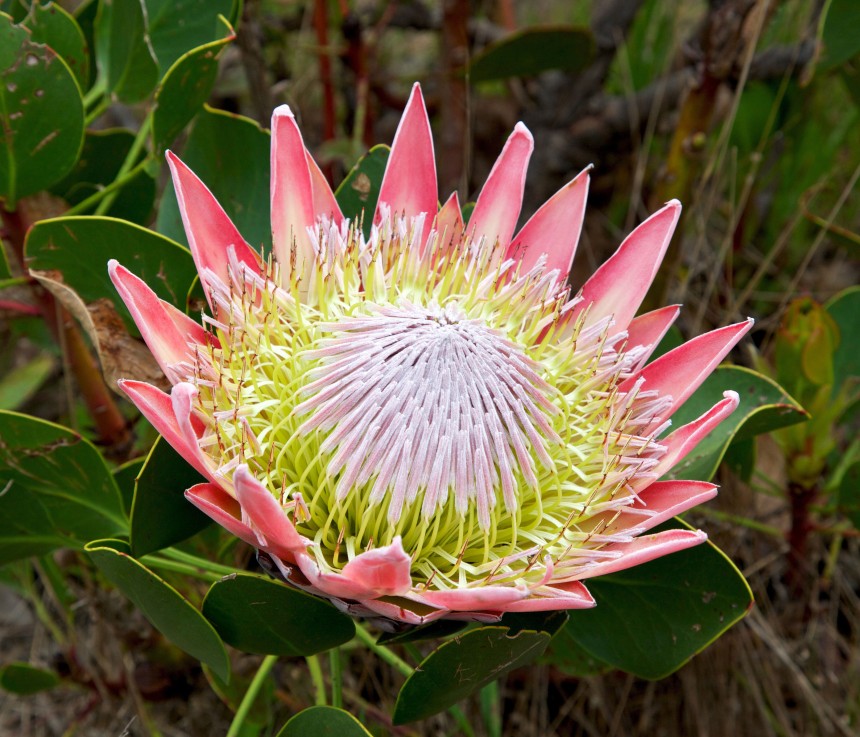 Tropical Foliage
Last but certainly not least are the different types of tropical foliage that are included in most floral arrangements. From ti leaves to monstera to song of India and Hala leaves, these colorful and unique tropical leaves put the finishing touches on your arrangements.
Tropical Flowers from Hawaii to Brighten Your Day
These are just some of the tropical flowers from Hawaii available. In fact, Hawaii is home to more birds and plants that are found nowhere else on the earth! From floral arrangements to leis to corsages, Hawaiian flowers can be used for celebrations, to brighten your home, or as congratulatory flowers.
Contact us for all of your floral needs. We create beautiful flower arrangements, make fresh leis and corsages, and can ship our gorgeous blooms as well!