Aloha!
About Our Hawaiian Flowers
We send you fresh Hawaiian flowers directly from farms on the Big Island and Maui. These include varieties of anthurium, orchids, ginger and heliconia. This allows us to send you the freshest tropical flowers at the best prices. Growers bring in flowers so we can quality check, clean, pack and stamp for state agriculture inspection. Flowers are sent as full length stems and are easy to arrange in any vase or floral tray.
Most of our protea come from Maui where they flourish.
If you need any type of flower or foliage not seen on our site please contact us. We can usually find anything with a bit of time. Also, you notice we do not have heavily fragrant flowers such as pikake, plumeria or tuberose. That is because these flowers are short lived and tend to turn brown even in 2 days of FedEx shipping. Hibiscus are also too short lived to ship as a cut flower.
Note that we do not have a walk-in store.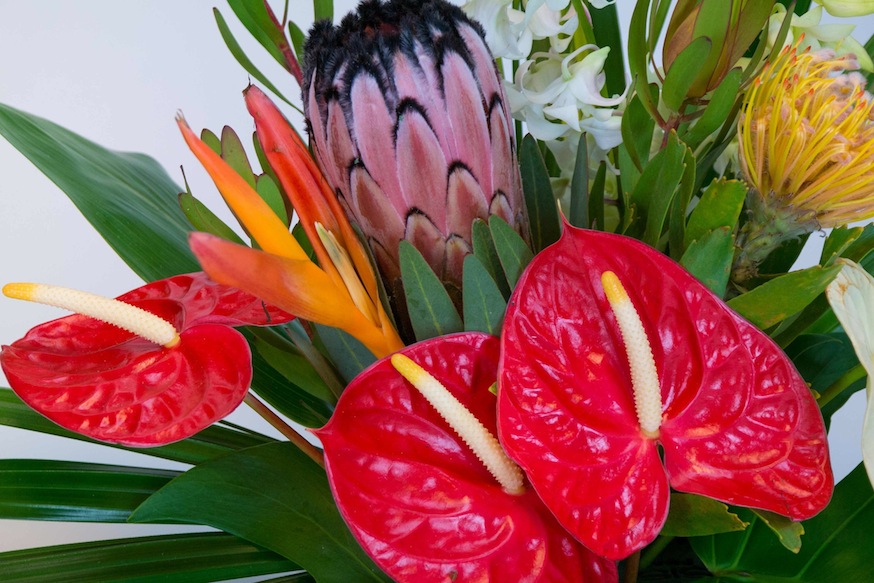 About Our Fresh Leis
Our flower leis are made by local lei makers using local flowers. These dendrobium orchids grow very well in our climate. We've been disappointed to see that over the last few years most Hawaiian companies that ship to the mainland use cheaper orchids imported from Thailand. This is also true for leis given to tourists at the airports and hotels.
This same trend has been true with maile vine. We use only Hilo maile gathered and cleaned locally. Much of the tourist maile used for 'Hawaiian' weddings has been imported from Polynesia. We use 3 full strands and spend about an hour cleaning the vines.
We also make the tradition ti leaf leis in either braided style, or open in the longer maile style.
We have chosen not to ship fragrant flowers including plumeria, micro ginger and tuberose. Our experience has shown that these flowers tend to turn brown during shipping which would ruin the lei. Typically fragrant flowers are shorter lived than others.
Our kukui nut leis are polished fresh and will last for years. This is one item we import from the Philippines due to the high labor cost of harvesting, cleaning, polishing and stringing. We only sell the natural kukui, never those with painted on designs.
And for the kids we have candy lei kits in different designs and colors for a safe and fun way to make their own leis.
One of our specialties is loose orchid blossoms. This is a popular item for parties, weddings, luaus and lei making. Our loose orchid blooms are grown in Hawaii and will keep fresh for you.
About Our Hawaiian Gifts and Gift Baskets
Hawaii is know for it's local treats and we use these for our gift bags and baskets. Our selections include macadamia nuts, Kona coffee as well as cookies and candies made with all of your favorites. We also feature spa gifts including lotions, soaps and bath crystals made at a small shop on the Big Island.
Choose from one of our gift baskets or bags or create your own custom gift basket. If you need a large number of gifts for a company event or special party just let us know ahead of time and we'll make sure to meet your budget.
Need a gift basket delivered to a hotel guest in Waikiki? Our companion site offers gift baskets and bags with no delivery charge for the Waikiki are and to offices as far as downtown.